Clash Royale 1.3.2 Apk Strategy Game for Android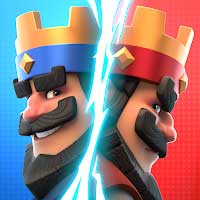 <!-- Google ads --> <!-- ed --> (adsbygoogle = window.adsbygoogle || []).push({});
Clash Royale 1.3.2 Apk Strategy Game for Android
Clash Royale is a 2016 freemium mobile strategy video game developed and published by Supercell, a video game company based in Helsinki, Finland. The game was soft-launched in Canada, Hong Kong, Australia, Sweden, Norway, Denmark, Iceland, Finlandand New Zealand for iOS platforms on January 4, 2016. The game was soft-launched on Android for those same countries on February 16, 2016. Both platforms will receive global releases in March 2016.
Enter the Arena! From the creators of Clash of Clans comes a real-time multiplayer game starring the Royales, your favorite Clash characters and much, much more.
Collect and upgrade dozens of cards featuring the Clash of Clans troops, spells and defenses you know and love, as well as the Royales: Princes, Knights, Baby Dragons and more. Knock the enemy King and Princesses from their towers to defeat your opponents and win Trophies, Crowns and glory in the Arena. Form a Clan to share cards and build your very own battle community.
Lead the Clash Royale Family to victory!
PLEASE NOTE! Clash Royale is free to download and play, however, some game items can also be purchased for real money. If you don't want to use this feature, please disable in-app purchases in your device's settings. Also, under our Terms of Service and Privacy Policy, you must be at least 13 years of age to play or download Clash Royale.
A network connection is also required.
FEATURES
Duel players from around the world in real-time and take their Trophies
Earn chests to unlock rewards, collect powerful new cards and upgrade existing ones
Destroy opponent's towers and win Crowns to earn epic Crown chests
Build and upgrade your card collection with the Clash Royale Family along with dozens of your favorite Clash troops, spells and defenses
Construct your ultimate Battle Deck to defeat your opponents
Progress through multiple Arenas all the way to the top
Form a Clan to share cards and build your very own battle community
Challenge your Clanmates and friends to a private duel
Learn different battle tactics by watching the best duels on TV Royale
WHAT'S NEW
SIX NEW CARDS
– New Common Card: Fire Spirits
– New Rare Card: Furnace
– New Epic Card: Guards
– New Legendary Cards: Lava Hound, Miner, Sparky
MORE REWARDS
– Gold: Receive Gold for each win, even when your chest slots are full
– Crown Chest: Contains twice as much!
SPECTATING
– TV Royale: Watch the best battles from any Arena
– Friendly Battles: Spectate Friendly Battles live and throw confetti!
BALANCE
– Card Balance: We've re-balanced a few cards, visit www.clashroyale.com to find out more
Links download: Direct links from Google Drive